LARGE AND SMALL SCALE CONTEMPORARY PAINTINGS BY PATRICIA TURNER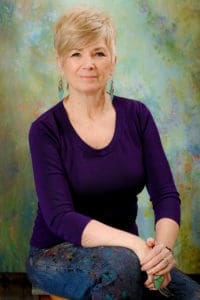 Patricia Turner - Artist Statement and Bio
Painting is a wild adventure!   
Each time I start with a blank white canvas I am exhilarated, especially when I end up with something new and alive.  This is a rich world that I get to experience.  I'm always astounded to see how emotionally transparent I become in this process and the painting is tangible proof.   
I have to paint...to play and renew myself. I paint because it is a spiritual gift I feel compelled to share.  When I paint, I am very aware of this. 
When I begin a painting I have no "plan," I just try to stay completely open.  I think about light and dark areas and am often influenced by the music I play in the background.  I find that hot salsa, blues or soul, or acoustic guitar music produces entirely different color palettes.  When the French horns in the soundtrack of Out of Africa dictate big, flowing, sweeping motions, then I oblige.  Or when it's a sexy salsa beat, I reach for the red.   I just go with the feeling of the music, dance and sing with it and see what happens.  The larger the canvas the easier and faster I work. I seldom use brushes and my favorite tools are large palette knives, rags, paint stir sticks, sponges and my hands. I believe each painting will tell its story if I just get out of the way.  Michelangelo expressed it so well when he said he just had to "release the slaves from the granite." 
My favorite place to paint is en plein air with tarps and plenty of room to expand.  There I can smear and throw paint onto canvasses with total reckless abandon.  Then, I stand back and look for the magic.  Sometimes I see a landscape taking shape, other times human forms appear, and sometimes beautiful colors and textures take center stage.  My favorite triptych was painted outside in this fashion.  I named it "Good Medicine," and it truly was good medicine.  Seeing it finished and framed made me feel healthier, sexier and more alive.  
I love the feeling that comes from throwing paint and artistic caution to the wind; the feeling of the presence of something transcendent, like a spiritual electricity, of being an alchemist, of staying open and letting the work come through me.    The excitement I feel with each encounter of the "canvas kind" is the feeling that I have no limitations.
While studying with other Texas artists and at the University of Houston, I studied art books about the old masters. I loved the expressionist painters, works by Renoir, the figurative work of Amadeo Modigliani, and the beautiful portraits of John Singer Sargent. I have always been captivated by the human face and form as much as I am excited by abstraction with heavy textures and strong contrasts. It was while living in Los Angeles, CA (1989-1991) that I began a real love affair with abstraction and expressionism and the idea of letting my emotions guide my hands.
University of Texas Thompson Conference Center Continuing Education Division (1994) 40 hours certified Graphic Design and Marketing
University of Houston School of Fine Art (1985).  drawing and painting
Del Mar College School of Fine Art (1967)-1968).  Graphic Arts, Drawing and painting
Brian Rutenberg, New York, New York - Studio Visits 1-64
Jonas Gerard, Asheville, NC - "Confluence" Private Reception
Filomena Andrade Booth, Texas and Florida Artist, Abstract Contemporary Workshop, October 2015, Irving, Texas
Mentor, Amadea Bailey, Los Angeles, CA, expressionist and abstract painter (2014 to present)
Atelier 3-D Studio – Steve Dubov, Anatomy - clay figure sculpture study (2013)
Gregory Truett Smith – Austin, Texas pencil portraiture (2000 – 2001)
Char Eppright – Austin, Texas pastel and oil portraiture (2000)
Daugherty Art Center, Austin, Texas – Meryl Berwick pastel figurative and portraiture (1991-1992)
Dot Turner Studio - Corpus Christi, Texas clay sculpture (1972)
Dick Turner Studio – Corpus Christi, Texas oil landscapes (1967-1972).  Dick was my greatest influence.
The Vineyard at Florence, Texas (2016 to present)
The Hollow Restaurant and Gallery - Georgetown, Texas (2015-2016)
Turner Studio Gallery - Georgetown, Texas (2012-2013)
Cultivate7Twelve, Waco, Texas (2018-Present)
Georgetown Arthop (2016)
LagunaArt.co (2016)
LaTiDa Boutique and Gallery, Marble Falls, Texas (2015)
570 Gallery - Laguna Beach, CA (2015)
Pink Poppy Artisans Gallery – Georgetown, Texas (2013-2014)
Gallery of Salons - Austin, Texas (2010)
Oktoberfest Arts Festival, Jonestown, Texas - 2008, Curator and lead juror for artists' submissions
Works held in private collections in Austin, Cedar Park, Dallas, Fort Worth, Horseshoe Bay, Houston, and Georgetown, Texas; Los Angeles and Poway, CA; Rio Verde, AZ; Carson City, NV; New York, NY and Washington, DC.
Selected over 30 artists as Visual Artist for Upsetting the Apple Cart, an original play produced for Artspark Festival Competition, 2007, Austin, Texas
Two abstract paintings, Inferno and Cielo, were selected by The Vineyard at Florence, Florence, Texas and used as labels for their new artisan wines for 2017.